The Colonial Room Restaurant
When the Menger Hotel was established in 1859, William Menger's wife, Mary, stepped in as head chef, earning a reputation far and wide for her delicious cooking. She scoured the town for only the best beef, chicken, fresh country butter and eggs and served up the finest delicacies within hundreds of miles. In time chefs were brought from Europe, creating dishes that blended San Antonio's mélange of German, Mexican, French and American cultures. The Menger's famous mango ice cream, originally made from fruit culled from mango trees in the courtyard, has remained on the menu for over a hundred years (and was served at both of President Clinton's inaugurations).
Today, the Victorian-era Colonial Room Restaurant continues the culinary tradition that Mary Menger established. The menu takes a page out of the past with such traditional entrées as lamb shank with linguini. Ragtime or early 20th-century jazz plays softly in the background, and soft lighting sets a romantic mood. Don't miss the popular Sunday brunch buffet—a smorgasbord of waffles, omelets, soup, gourmet salads, salmon, shrimp, chicken, plus carving and pasta stations—which can be enjoyed on the garden patio during the warmer months.
Live Entertainment
Enjoy the captivating music from Spanish guitarist, Fernando Solis.
Sunday, 10:00 AM - 2:30 PM

Signature plates
Bread Pudding With Rum Sauce
The treasured recipe for our sublime Bread Pudding with Rum Sauce has been handed down from chef to chef for decades (and is happily shared with guests who request it). The keys to this easy-to-make classic are day-old croissants, heavy cream and a hint of maple syrup. It all adds up to a little slice of rum-soaked heaven.
Signature plates
Mango Ice Cream
If there's one thing The Menger is known for, it's Mango Ice Cream. Just ask generations of San Antonians who've been enjoying this sweet treat for more than 100 years. We think President Bill Clinton said it best: "Mango ice cream at The Menger Hotel is one of the great treasures in American life." He should know, we shipped 40 gallons to Washington D.C. for an inaugural celebration for the 42nd president.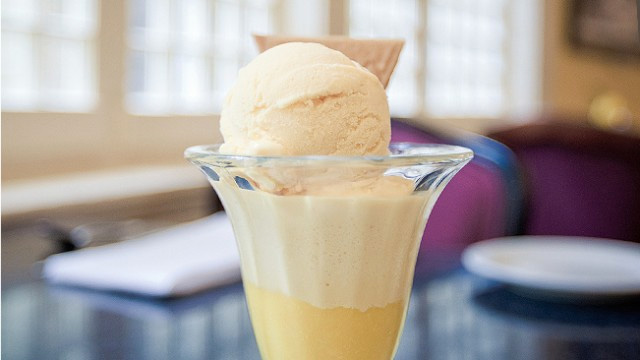 Signature plates
Tortilla Soup
A fixture on the Colonial Room Restaurant's lunch and dinner menu, our classic Tortilla Soup has countless enthusiastic fans who appreciate its perfect blend of Poblano and Anaheim peppers, beef, onions and other veggies, garnished with tortilla strips and grated Cheddar and Monterrey jack cheeses.