Welcome
to the Historic Menger Hotel
With a style and tradition befitting the oldest continuously operating hotel west of the Mississippi, the elegant Menger Hotel welcomes guests with a nod to San Antonio's colorful past intermingled with its cosmopolitan present. Just steps from the Alamo on Alamo Plaza, we are a long-rooted landmark that shares San Antonio's story from the earliest days of the Texas frontier.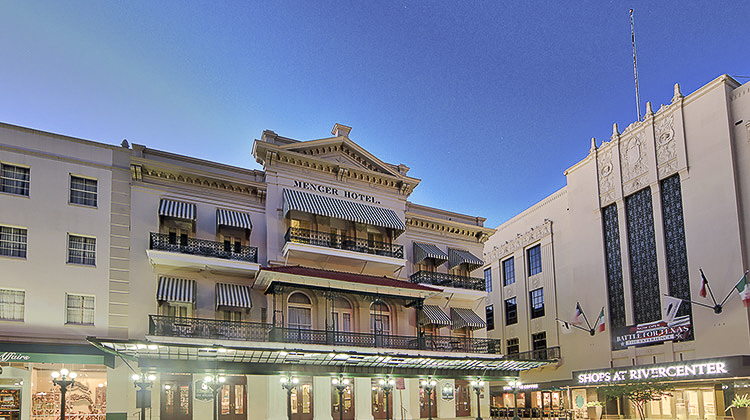 Step into our exquisite, three-story Victorian lobby, and you are transported back to a time when Theodore Roosevelt was gathering his Rough Riders in our very own Menger Bar and San Antonio's petticoated elite kicked up their heels at the city's most elaborate galas and cotillion parties in our very own ballrooms. Our hotel is renowned for its refined architecture, including its meticulously restored wing adorned with 19th-century panache; and the oval lobby with its Renaissance Corinthian columns rising from the burnished floor. Our walls and display cases are crowded with museum-worthy mementoes and photographs that capture our esteemed history—including a long line of honored guests, several U.S. Presidents among them. Our Spanish courtyard garden, filled with palm trees, azaleas and a three-tiered fountain, is one of the most peaceful in town. But we are a contemporary San Antonio hotel as well, with gracious service and modern amenities (including the largest heated pool in San Antonio), assuring an extraordinary experience all around. Frequent guests tell us it's like coming home.
Personalize Your Trip Today!
Download our brand new complimentary app now and begin planning your San Antonio escape! Compatible with iPhone, iPad and Android Devices, and ideal for simplifying your busy schedule.