Unforgettable

Wedding Venues
in San Antonio, Texas

At an address whose name is synonymous with luxury, in a venue where Victorian-era grandeur meets contemporary sophistication, on a day when everything must be perfect, the Menger Hotel provides an idyllic storybook setting for elegant rehearsal dinners, sunset ceremonies, and grand wedding receptions.
Wedding

Amenities

• Tasting for two guests
• Bridal changing room*
• Sparkling Wine or Cider Toast for all guests
• Place settings glassware
• Staging for head table**

• Skirted display tables
• White tablecloth
• White napkins
• Cake cutting
• Parquet dance floor
• Banquet round tables

• Tables for the cocktail hour
• Special hotel rates for your guests*
• Honeymoon one-bedroom suite with a minimum spend of $3,500 on F&B
• Hotel areas available for portraits** (when hosting your wedding with us)

* Upon Availability

**Upon Request
Wedding Venues
Menger Grand Ballroom
Minuet Room
Patio Room
Renaissance Room
Platinum Wedding
Reception Room: Grand Ballroom
Cocktail Hour Location: Star Light Terrace
Minimum Catering: $15,000
Guest Minimum: 120
Guest Maximum: 350 w/ Dance Floor
Honeymoon Suite: Victorian Suite
Room Rental: $2,500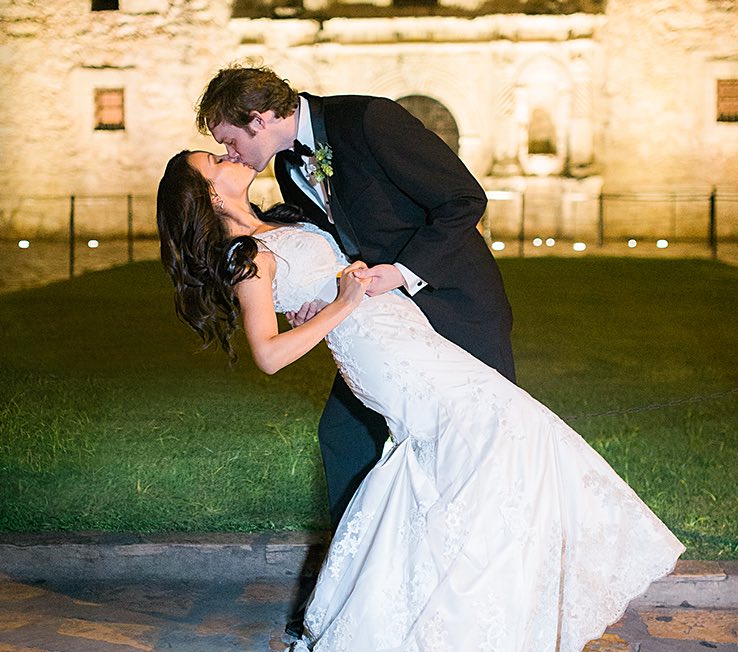 Timeless Romance
Reception Room: Minuet Room
Cocktail Hour Location: Garden Courtyard
Minimum Catering: $6,500
Guest Minimum: 60
Guest Maximum: 120
Honeymoon Suite: Victorian Suite
Room Rental: $800
Garden I Do's
Reception Room: Patio Room
Cocktail Hour Location: Garden Courtyard
Minimum Catering: $3,200
Guest Minimum: 48 w/ dance floor
Guest Maximum: 72 w/o dance floor
Honeymoon Suite: Victorian Suite*
Room Rental: $600
Victorian Elegance
Reception Room: Renaissance Room
Cocktail Hour Location: Victorian Lobby
Minimum Catering: $2,500
Guest Minimum: 25
Guest Maximum: 50
Honeymoon Suite: Victorian Suite*
Room Rental: $400
Wendy and Robert

The Menger and its entire staff made our wedding day so very memorable. Everyone! absolutely everyone from the cleaning staff, valet service, management, booking, catering, was absolutely perfect, professional, and I would highly recommend anyone to have a function there. Marcia and Zara guided me effortlessly through a very important day in our life and made it completely seamless! I will always cherish my wedding day and the staff that made it possible.

Michelle

We had our wedding reception at the Menger Hotel and it was the perfect location. Almost all of our family and friends stayed here, which was great. The ballrooms were nice and spacious and the food was terrific. It turned out beautiful!

Doris

The incomparable charm of this historic hotel and its environs are only matched by the incredibly supportive staff. I would use this venue again for another occasion.

Misty

We had the rehearsal dinner, the ceremony, and the reception at the Menger and it was amazing! The hotel provides catering and we received so many compliments on the food. If you do decide to do the rehearsal dinner at the Menger, the bread pudding and mango ice cream are to die for! All in all, our guests loved the hotel.

Mercedes

If you're looking for an elegant, historic, fun, and naturally beautiful venue to host your wedding—look no further! The Menger team exceeded all my expectations. The communication was excellent and they treat you with the utmost professionalism. Thank you Menger Hotel for making our dream wedding come true!

Janelle

Fairytales do come true. My wedding was everything I wanted and more. Zara, Hector, and staff ensured that all of my needs and wants were met and exceeded. They were flexible, extremely accommodating, and just so much fun to work with.

John

The staff and everyone at the hotel were awesome and made my special day really special. From the catering manager who showed up on the day of to make sure it went without a hitch, to the banquet captain who went above and beyond, all of the staff were attentive throughout the entire experience.
Awards