Memorable Events
Begin Here
Our centerpiece venue is the elegant Grand Ballroom, which can accommodate sales conferences, product presentations and dinner banquets of up to 750 guests. For smaller gatherings, the hotel offers several intimate boardrooms and meeting rooms.
Menger Grand Ballroom
Spectacular crystal chandeliers set the mood for your elegant event. Use the entire space for your guests or partition the room into three smaller areas, as you wish. Adjacent to the ballroom is a pre-function area that opens to a terrace overlooking Menger Court, a common area between the hotel and Rivercenter Mall.
Both the poolside terrace and Menger Court provide inviting space for receptions under the stars. Accommodating up to 300 guests, this space includes a large dance floor and would be a great location for your hors d'oeuvres reception.
4,500 sq ft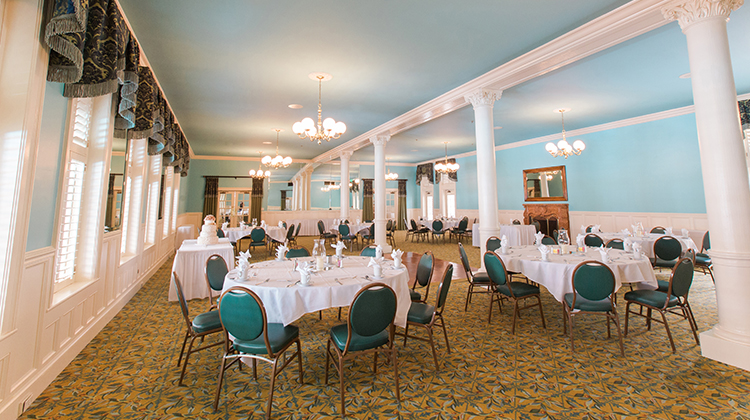 Minuet Room
Our second largest space is the Minuet Room, the Menger's original ballroom. Its elegant Victorian ambiance features a fireplace, dance floor and doors opening onto the Spanish courtyard garden and pool area. This space can accommodate up to 120 guests.
2,257 sq ft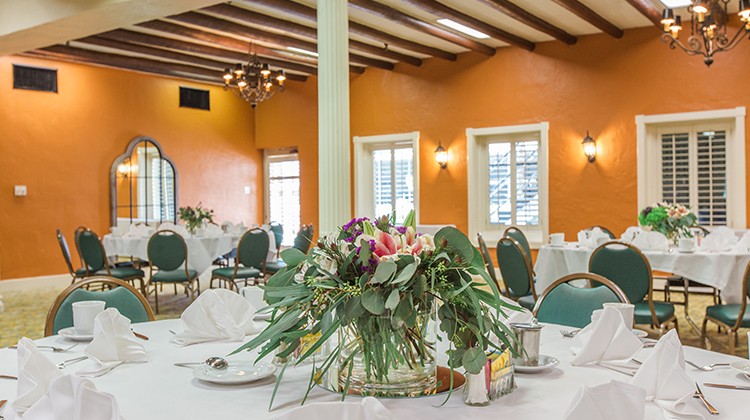 Patio Room
Decorated with Southwestern style, this room features log beams across the ceilings and wrought-iron light fixtures. Your guests will enjoy a small dance floor and doors opening onto the Spanish courtyard garden and pool area. The Patio Room accommodates up to 80 guests.
1,332 sq ft
Cavalier Room
Host your next meeting or corporate event in the Cavalier Room. This unique venue provides high wood-beam ceilings, and floor-to-ceiling white wooden plantation shutters overlooking the Spanish courtyard garden. The Cavalier Room is an intimate space, accommodating up to 30 guests.
640 sq ft
Grant Room
Perfect for your next corporate event or meeting, this room is pre-set boardroom style and features a conference table with seating for 12.
300 sq ft
Renaissance Room
This second-floor reception room is located in the hotel's original wing next to the rotunda. Your guests will marvel at the decorative plaster ornamentation on the ceiling featuring abstracted urns, shells, lyres and anthemion motifs. The mantelpiece is identical to the one found in the Colonial Room Restaurant. French doors open to a private balcony overlooking Alamo Plaza. The Renaissance Room accommodates up to 50 guests.
1,014 sq ft
Sam Houston & Kampmann Boardrooms
Located in the original wing of the hotel, both boardrooms are pre-set and offer a smaller, more intimate meeting space.
The Sam Houston Room features rich, dark wood-paneled walls and is pre-set boardroom style. Accommodates up to 12 guests. 360 sq ft
The Kampmann Room accommodates up to 8 guests. 225 sq ft
---
Meeting Room Measurements & Seating Capacity