Your Day
to remember forever
At an address whose name is synonymous with luxury, in a setting where Victorian-era grandeur meets contemporary sophistication, on a day when everything must be perfect, the Menger Hotel is an extraordinary setting for weddings.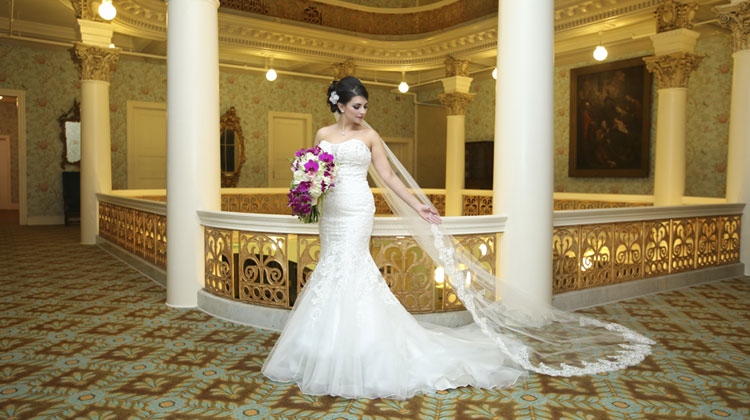 Inspired creativity, flawless craftsmanship and immaculate service blend seamlessly, ensuring that every moment will be just how you've imagined it. Gather for pictures in the stunning three-story Victorian Lobby or wait until sunset, when the light by the Spanish courtyard garden fountain is sublime. Host a formal candlelit banquet followed by a night of dancing in the elegant Menger Grand Ballroom. Plan a more intimate family affair in the beautifully appointed Renaissance Room. Our Colonial Room Restaurant is a vibrant setting for cocktail parties, rehearsal dinners and send-away brunches.

"...best venue for an elegant reception..."

In truth, every staff member encountered that weekend---from the valet parking attendants to the front desk clerks to the housekeepers and everyone in-between---appeared to be committed to customer satisfaction. Guests continuously commented that the unique charm of the hotel and its environs was only surpassed by the proficiency of its employees. The Colonial Room and Menger Bar also were singled out for praise.

-Doris S, Mother of Bride

"I would recommend the venue to everyone"

We held our wedding at the beautiful Menger Hotel 2 month ago and we're still basking in the memories of a wedding that measured up to everything we ever dreamed it would be. We had our ceremony at the Renaissance Room, reception in the Minuet Room and every part of it was fabulous. Zarelda Marrero and staff were very accommodating and amazing.

-Lu Qin, Bride

"...Nothing but compliments..."

We received nothing but compliments from our guests on the hotel; its location, beauty and the special attention provided by hotel staff made the visit special for all. All said that they will stay at the Menger Hotel when they visit San Antonio again.

-Lynnette L

Guest Room
The Menger Hotel offers 316 elegant guest rooms with a variety of options and floor plans, all infused with historic charm. Request a room with a private balcony, or a room with views of the Alamo, Alamo Plaza, swimming pool or Spanish courtyard garden. Whatever size or layout you choose, you are guaranteed modern comforts and outstanding guest service.
Special hotel rate available for wedding guests.
Special room rates are based on availability.
Room rate includes free WiFi. Check in is 3 pm and check out is 12 pm.
Room rates are subject to 16.75% hotel occupancy tax.
Parking (if applicable) is $28/night.
$20 + tax, per stay, for rollaway. Not all rooms accommodate rollaway bedding.
Room rates are subject to 16.75% hotel occupancy tax and 1.25% San Antonio Tourism PID (Public Improvement District) fee